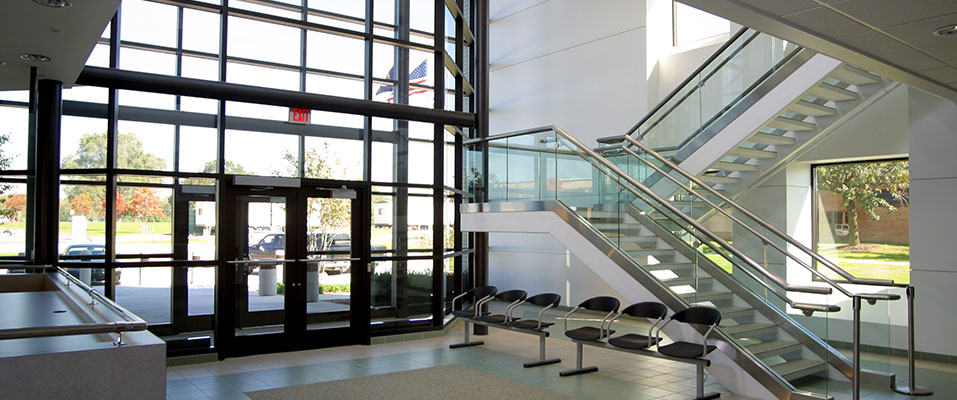 The Public Lobby
Picture from Project – Police – Troy MI_Lwr Lobby
Public Lobbies of Police Buildings must accommodate a number of interactions between the police department and the public. Some departments utilize sworn officers to staff the Front Desk; others use civilians, either stand-alone, or as a part of the Records Counter Function.
The following is a list of functions that might occur and spaces that might be needed in a typical Police Building Lobby:
Make a Report on a Property Crime
Make a Report on a Persons Crime
Obtain a Record
Pay a Traffic Fine (if done at the Department)
Arrive for an Appointment
Victim
Suspect
Vendor
Technician
Administration visitor
Speak with an Officer in the Lobby
Participating in a Community Policing Meeting
Participating in a Community Meeting
Prisoner Release
Property Release
Family/Friends waiting area
Display area
Rest Rooms
Place of Refuge
Vending Machines, Telephone
Video Feed for Video Arraignments
Obtain a gun permit
Have fingerprints taken
Each of these actions or spaces need to be discussed in order to determine how best to serve the public in the new facility. One way to begin an analysis is to have the staff at the Front Desk keep a daily log of the visitors for a long enough period of time to determine actual use, and then project those uses appropriately for an anticipated, future demand.
If the Lobby is not open 24 hours a day, there needs to be an emergency phone located adjacent to or in the Lobby Vestibule, which may be open even if the Lobby itself is closed.