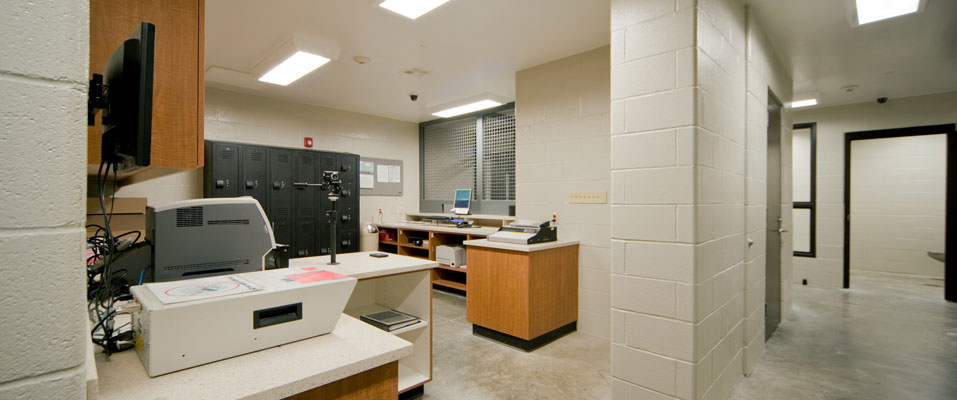 Prisoner Processing and Holding
Picture from Project – Court Bridgeton, MO City Hall and Police Prisoner processing
A prisoner processing and holding space must provide a secure area for the intake, processing and housing of prisoners. The space must be designed to process prisoners efficiently, while maintaining a safe work environment for the staff. It should allow for the temporary detention of male and female prisoners separately and simultaneously pending their transfer. In new facilities, juvenile detainees must be able to be processed without any sight or sound contact with adults.
The following functions might be found in a typical Prisoner Processing/Holding area:
Security Garage (Sally Port)
Safety Vestibule (with interlocking doors) in and out of the Prisoner Processing/Holding space, with multiple security devices on door controls.
Processing Area (should have space for booking, identification, photographing, breathalyzer equipment, fingerprinting, strip searching and showering of prisoners)
Detoxification Cell
Holding Cells (Male & Female)
Interrogation/Interview Rooms
Prisoner/Attorney Booth
Video Arraignment
Food Preparation Area
Janitor closet, Storage, etc.
Some of the requirements for the holding area:
Visual monitoring – direct supervision or remotely through video camera system – is performed by sworn officers or by civilian dispatch staff.
The HVAC for this area should have 100% exhaust system to avoid recirculation within the building of air contaminated with possible pathogens due to housing a high-risk population.
Floor, walls and ceiling to be of security-rated materials and abuse-resistant finishes. Remote-flush drains are recommended.
Light fixtures, air registers, and plumbing fixtures to be of a prison-type with tamper-proof fasteners.