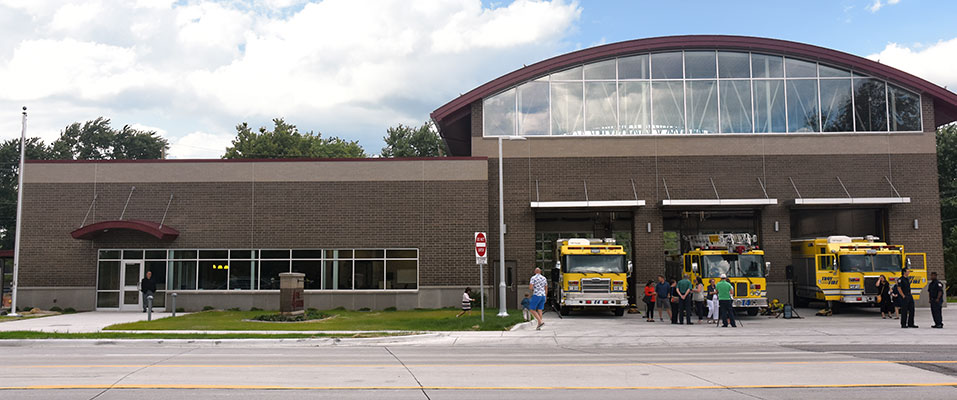 Collaborative Spaces & Face Time
When developing the design for a Public Safety Facility, particular attention must be focused on creating efficient workflows, as well as the creation of staff spaces that encourage interaction through face-time.   These spaces offer the opportunity for members of the department to have direct communication with one another, as opposed to texting, email, or even an occasional phone conversation. We refer to these spaces as collaborative spaces.
It's been generally recognized by public safety agencies that the quality of the work environment affects morale and performance of their employees. Spaces such as the Exercise Room and Break Rooms have always been a part of any public safety building program. Traditionally, these spaces were the main areas where staff was able to interface on a casual basis. However, these spaces are often thought of as secondary spaces, and were located in the far corners of a facility, off of the main circulation paths of the building.
A successful public safety building design would allow various divisions within the department to interface and share information through the use of informal meeting and gathering spaces. Collaborative spaces can act as "focal points," and might be strategically placed along main circulation paths to foster more interaction among the employees (face time) to create a more efficient and cooperative work environment.   To create traffic and encourage interaction, collaborative spaces could contain other elements such as bulletin boards and mailboxes, and might be developed as part of a common core of shared spaces.
Waterford, MI – Staff Hall
Troy, MI – Police Department Break Area
In addition to location, the physical design of a collaborative space is a key to its success. Attention should be given to its physical and aesthetic characteristics to help create an inviting, warm, and casual space. Introducing daylight and creating a feel of openness and transparency all enhance the work environment and create community space for the department that will be used by all.